Commercial Indoor Plant Care
Plant Care
Don't worry if no one in the office has a green thumb! Our top technicians provide weekly indoor plant maintenance to keep your business environment green and appealing.
Consultations
Let us offer expert assistance when you need advice on plant and atrium maintenance. We'll work with your architect to create a beautiful display that accentuates your interior.
Locally Grown
Indoor plant care works best when you obtain greenery from local growers. Plants remain healthy and full when they don't have to travel far. We also offer containers that match your decor.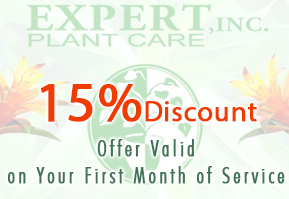 Serving Satisfied Clients for More than 34 Years
Member – Plantscape Industry Alliance
Contact us in Paramount, California, to learn more about beautifying your place of business with regular plant care and maintenance.
About Us
Expert Plant Care, Inc. in Paramount, California, provides office plant care on a weekly basis to ensure your place of business is warm and inviting. Our staff possesses a total of 70 years of indoor plant care experience as members of PIA, the Plant Industry Alliance. Our greatest joy is getting to work with both plants and people.
Company Bio
Family-owned since 1979, our company has provided interior plantscape sales and service for more than 30 years in the Greater Los Angeles region. The husband and wife team of Riley and Dorothy Wilson founded our company out of their home, and they each had a vision of becoming the standard for plant service in the industry.
With an emphasis on superior service and highly trained plant technicians, we have grown into servicing more than 145 clients throughout Southern California.
Our office is centrally located in the city of Paramount, which allows us to serve clients in Los Angeles and Orange counties, along with the western cities in San Bernardino County. As one of the pioneers of going green, we protect our environment by enhancing work environments with live plants. Our mission is to continue to be one of the innovators and leaders in our industry.
Proudly Serving Clients in a 50-Mile Radius from Paramount, including Los Angeles and Orange Counties
Mission Statement– To Be the Industry Leader in Superior Service, Plant Design, and Innovation at a Competitive Price